Weijun Li Joins AMETEK Crank as Regional Sales Manager for China
Introducing Weijun Li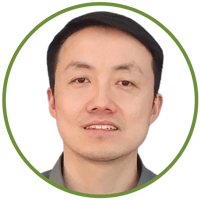 SHANGHAI, China, Dec. 23, 2021 -- AMETEK Crank is pleased to announce that effective November 1, 2021, Weijun Li has joined us as our Regional Sales Manager based in China reporting to Hitesh Shah, Division Vice President, Sales. Weijun will develop and build relationships with Crank customers across China, Hong Kong, Taiwan, Japan, and South Korea and will be responsible for daily sales activities.


Weijun brings five years of development experience in real-time control systems. In addition, Weijun has gained 12 years of software sales experience in the automotive industry, including three years in Mentor Graphics and four years in Qt, where he also sold software into the medical, industrial, and consumer electronics industries.
Weijun's knowledge and breadth of experience will prove advantageous to customers as they seek his guidance on embedded GUI solutions.
Customers can reach Weijun as follows:
Mobile: +86 187-2194-6983
About AMETEK Crank:
AMETEK Crank is a global innovator in embedded GUI solutions that accelerate the design and development of modern UX for tomorrow's IoT devices. Through the Storyboard framework, AMETEK Crank drives innovation and faster time to market for brands wanting to deliver sophisticated customer experiences and unmatched performance.
With decades of domain expertise, brands such as Coca-Cola, John Deere, and Zepp Health rely on AMETEK Crank to bridge the gap between UX vision and customer expectations. AMETEK Crank is part of AMETEK, Inc., a leading global manufacturer of electronic instruments and electromechanical devices with annual sales of approximately $5 billion.
To learn more, visit cranksoftware.com.
How much is ineffective GUI design and development costing you?
Join the thousands of developers and designers using AMETEK Crank Storyboard to create rich GUI applications for multi-market embedded devices.