Crank Software Enhances the Level of Collaboration at Embedded World 2015
February 20, 2015
Crank Software Enhances the Level of Collaboration and Ease-of-Use for UI Development with New Version of Storyboard Suite at Embedded World 2015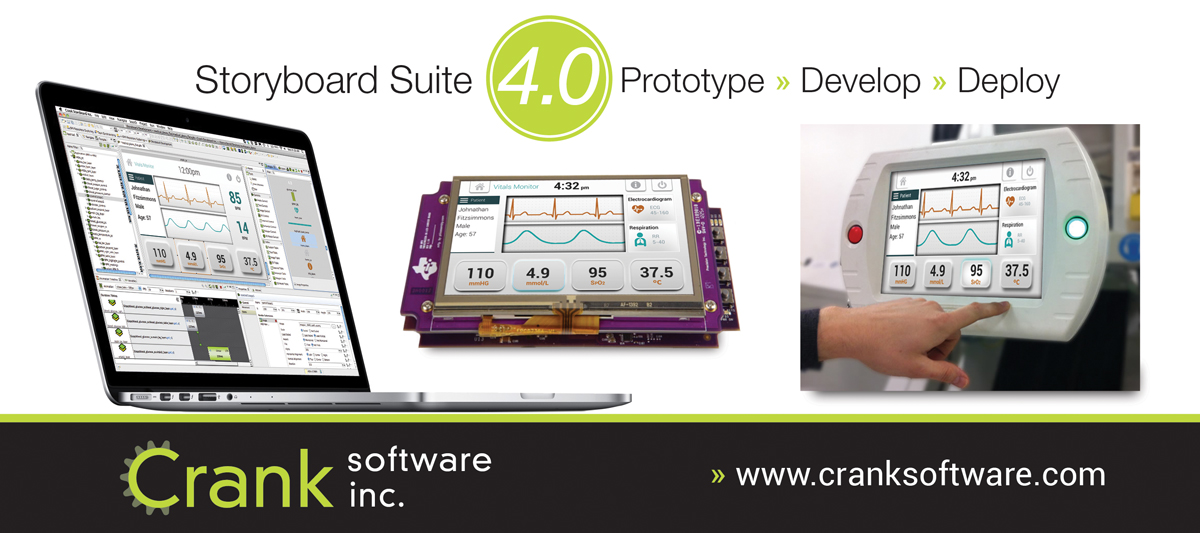 New Release of Storyboard Suite Offers Enhancements and New Features to Streamline Embedded GUI Design and Development
NUREMBERG, Germany, Feb. 20, 2015 - Crank Software, an innovator in embedded user interface (UI) solutions, announced today a new release of its turnkey UI development software, Storyboard Suite. Storyboard Suite 4.0 offers new features and enhancements to streamline the graphical UI development process, helping development teams bring stunning UIs to market faster.
Supporting iterative and collaborative design, Storyboard Suite gives development teams a flexible platform and toolkit to allow them to share workload and design tasks, while maintaining a tight focus on a cohesive and beautifully integrated end product. With a design environment that's easy to learn and use, teams can be productive from the start, saving time and costs, and delivering better UIs in less time.
"We re-imagined UI development with Storyboard Suite, creating one tool that everyone shares," said Thomas Fletcher, VP Research & Development at Crank Software. "With new features in Storyboard Suite 4.0, we're continuing to support that vision, further enhancing the best solution for UI development. Designers create their designs, engineers develop their code, and Storyboard Suite speeds the development process, bringing design and code together to create a rich, intuitive user experience. "
Storyboard Suite 4.0 adds new features to further support team collaboration and ease-of-use enhancements to streamline the design experience, making it faster and easier for development teams to create graphical UIs.
Top New Features in Storyboard 4.0
Improved Workflow: An updated interface in Storyboard Designer allows for maximum design efficiency and control
Support for multiple application design files: Teams can work collaboratively and seamlessly merge multiple designs
Groups: Group multiple controls for faster and easier control editing and management
Scrolling Layers: Scroll multiple controls on a layer with ease
New render extensions: Quickly add circles and arcs to applications with ease
9-patch image support: Improve image scalability and design control while reducing design time and effort
We will be demoing Storyboard Suite 4.0 at Embedded World 2015, booth #4-547, February 24-26.
About Crank Software
Crank Software is an innovator in embedded user interface (UI) solutions, reducing the time, costs, and headaches that notoriously come hand-in-hand with UI development by letting designers and engineers work side-by-side. Crank products manage the UI lifecycle from design to deployment. Teams can use the software to develop, prototype, and refine the UI until it's perfect – both in function and in design – and then deploy the UI for the final product. With a shorter development time and a more collaborative process, products get to market first with a higher ROI and a remarkable UI that builds brand loyalty.