iWave Systems and Crank Software Partners to Enable Enhanced User Experiences in HMI Solution Through Rich, Interactive 3D Touch Screen Interface
Bangalore, India, 5th October 2020 — iWave Systems, a global leader in the design and manufacture of cutting edge embedded solutions, is collaborating with Crank Software, the leading provider of Graphical User Interface development software, Storyboard, to provide pixel-perfect 3D touch screen interfaces on iWave HMI Solutions. The partnership enables iWave's customers across the Medical, Industrial, and Automotive domains to leverage proven application ready HMI modules with stunning 3D GUI and accelerate the development of secure and reliable end applications.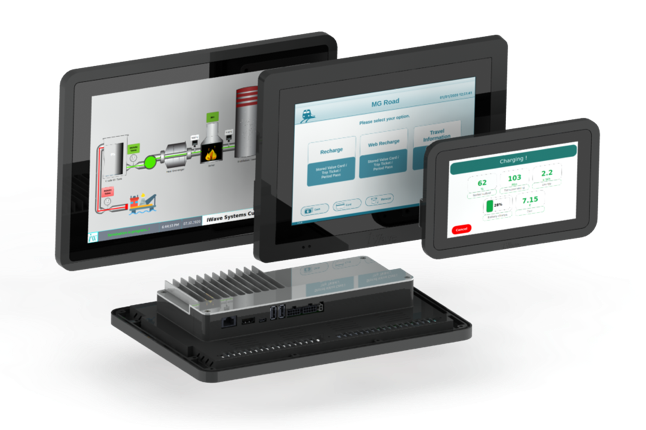 Built upon high-performance multi-core ARM processors with advanced 3D graphics and multi industrial interfaces, the iWave HMI platform offers best in class modular solution optimized for a wide range of use cases in Food and Brewery, Vending Machine, Remote patient monitoring, Infotainment, Interactive Kiosk and integrated IoT systems.

Why iWave HMI Solutions?
Standard 7", 10.1" and 12.1" display and Projected Capacitive touch, with custom option for Touch cover.
Support for Industry standard interface and wired/wireless connectivity.
Application ready solution with standard configuration of HMI with SDK on Linux and Android OS
Custom API and UI implementation.
Panel mount and Open frame fixture options
Custom design and retrofitting of HMI and control panel
Custom design meeting functional, IP, visual and certification needs
Support HMI solution to the customer on long term, 5 + years, on ODM model.
Crank's GUI development software Storyboard integrates a robust embedded GUI framework that enhances user experience and functionality of the HMI solution.
Storyboard offers the following key features in the iWave HMI platform:
Media-rich user interface development - Graphics, Audio, Connectivity
"no programming" UI framework
Ability to import and re-upload files from Photoshop and other design platforms
Integrated animation timeline tool, testing & validation tools
Adaptable to technology stack changes (hardware & software & OS)
Storyboard's runtime allows the GUI to be deployed and run on the HMI platform quickly, without compiling any code, thereby ensuring customers' ease of use and faster time to market.

iWave offers Crank support on 7",10.1" and 12.1" display configurations that are based on latest proven carrier card and SBC designs. iWave ensures excellent value as an ODM partner by providing product longevity for 5+ years, extensive customization of hardware, software and mechanical design and dedicated technical support team, we are able to address diverse custom design requirements and design the perfect system for our customers who are typically OEMs and system integrators...

"As a joint force with Crank Software, iWave HMI systems ensure dynamic performance and interoperability, while minimizing cost and development risks, allowing our customers towards a world of smart possibilities. We are excited about the opportunity to expand our technology services with Crank and look forward to a long and fruitful partnership in the years to come," said Abdullah Khan, Director-Engineering, iWave Systems Technologies

"As an industry leader in GUI development software, we believe in making it simple for customers to create innovative solutions for intuitive, interactive applications," said Jason Clarke, Vice President of Sales & Marketing, Crank Software. "Crank is excited to be part of iWave's 'application ready' solutions that take this concept and make it even easier with their 'all-in-one' SoM design. The result is a simple path for customers to obtain reliable, high-performance applications tailored to their market that provide a completer and more robust user experience."

About iWave:
iWave Systems is a product engineering organization focused on providing powerful energy-embedded solutions built on ARM and FPGA based chipsets. With over 20 years of diverse experience in the embedded domain, iWave has been a dependable embedded partner for thousands of satisfied customers worldwide, helping them bring innovation to life with state-of-the-art system on modules, single board computers, HMI and OBD solution for diverse applications.
For more information on our portfolio of HMI and Embedded Solutions, you can reach us at mktg@iwavesystems.com

About Crank Software:
Crank Software is a Canadian based innovator in embedded graphics solutions that help accelerate the design and development of the modern UI experience for tomorrow's embedded devices. Supported by a global distributor network, Crank is driving innovation and speed to market for brands wanting to deliver unmatched performance and delightful customer experiences. With close to two decades of domain expertise in embedded graphics applications development, brands like Coca-Cola, John Deere, and GE Appliances, rely on Crank for bridging the gap between vision and exceptional user experiences.
Media Inquiries: