Crank Software Teams with Aptera Motors to Drive Embedded UX for the World's Most Efficient Vehicle
Crank Professional Services helped bring the first "never charge" solar vehicle to market in less than a year

OTTAWA, December 15, 2020 — Crank Software, a leading global provider of GUI development tools for the embedded systems market, today announced its partnership with Aptera Motors and Andromeda Interfaces to develop and launch the central infotainment display for the world's first solar electric vehicle (sEV) that requires no charging for most daily use. The Crank Professional Services team, along with its industry-leading Storyboard software, was instrumental in bringing user experience (UX) designers and developers together to satisfy demanding timelines and design targets for the new sEV, which became available for preorder December 4.

"The Aptera ethos is born from efficiency and every aspect of our design, from lightweight structures to streamlined user interfaces, follows this approach," said Chris Anthony, Aptera co-founder. "Crank helped us create an intuitive vehicle experience while also offering extra benefits that clearly communicate the efficiency of Aptera to the driver.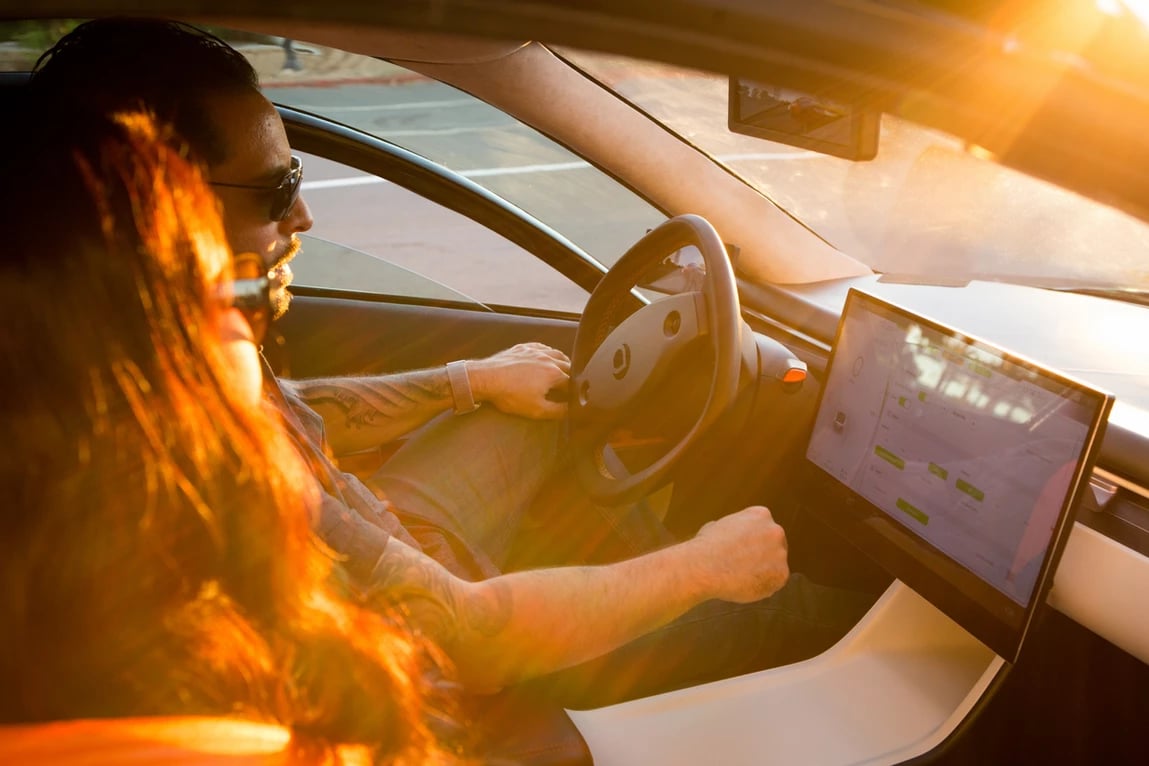 The Aptera HMI provides an intuitive vehicle experience while also offering extra benefits that clearly communicate the efficiency of Aptera to the driver.
For this new take on electric vehicles, the Aptera Human Machine Interface (HMI) team needed to convey concepts to drivers in an intuitive way, including focusing on efficiency and range versus autonomous driving. Ensuring these needs were met, while keeping all project stakeholders aligned, was critical in meeting launch deadlines. Aptera and Andromeda Interfaces chose to partner with Crank to meet the demands of tight prototyping and development schedules, and support the skills required for building feature-rich automotive HMIs.

"The user interface helps navigate all the controls of the vehicle so it must be easy to use, free from distractions, and meet rigorous automotive safety requirements," said Brian Gallagher, head developer and co-founder, Andromeda Interfaces, Inc. "Crank's Storyboard helped us focus on getting the design and performance optimization of the HMI right so we could make changes and test quickly. Crank's Professional Services team supported us throughout development, enabling us to progress much faster than we could have with anyone else."

Brian Edmond, president and co-founder of Crank Software, said the partnership is an ideal example of how Crank can help quickly and cost-effectively create exceptional user experiences for embedded devices. "Aptera is carving out a unique and valuable position in the automotive marketplace, and we're proud to support their vision," Edmond said. "We are aligned in our efforts to transform industries by bringing together experts from design, UX, and development to work better together to accelerate exceptional embedded GUI experiences."
About Crank Software:
Crank Software is a Canadian-based innovator in embedded graphics solutions that help
accelerate the design and development of the modern GUI experience for tomorrow's embedded devices. Supported by a global distributor network, Crank is driving innovation and speed to market for brands wanting to deliver unmatched performance and delightful customer experiences. With close to two decades of domain expertise in embedded graphics applications development, brands like Coca-Cola, John Deere, and GE Appliances, rely on Crank for bridging the gap between vision and exceptional user experiences.

To learn more, visit cranksoftware.com.

About Aptera Motors:
Aptera Motors delivers the world's most technologically advanced solar electric vehicles (sEVs), made possible by breakthroughs in battery efficiency, aerodynamics, material science, and manufacturing. A lightweight three-wheeler, Aptera is the first in a series of eco-friendly vehicles that will be offered for consumer and commercial use. It has the ability to travel up to 45 miles a day on free power from its integrated solar panels. With only four key structural parts, Aptera's unique body shape allows it to slip through the air using far less energy than other electric and hybrid vehicles on the road today.

Learn more at aptera.us.
Media Inquiries:
How much is ineffective GUI design and development costing you?
Join the thousands of developers and designers using Crank Storyboard to create rich, GUI applications for multi-market embedded devices.