GUI Builder for STMicroelectronics
Experience a Storyboard GUI on the entire family of STM32 & STM32 32-bit Arm Cortex MPUs.
Crank AMETEK
Authorized embedded software and service partner to ST
Cross-platform framework for embedded GUI developments
Accelerate the design of a sophisticated GUI for embedded devices based on STMicroelectronics's microcontrollers and microprocessors with the use of Storyboard.
By leveraging Storyboard's collaborative workflows, ST customers can produce robust UIs for their multi-market devices far more efficiently than before.
Thanks to its framework, companies can work on one application that will span across a wide range of devices. Developers can thus save money, reduce their time to market and enjoy greater flexibility.
Highly optimized GUIs for the ultra-efficient STM32 MCUs to the higher power STM32MP1
Storyboard is scalable across the breadth of ST's application processors, from MCUs to the powerful MPUs. For customers considering ST hardware, moving from an MPU to an MCU is also vastly simpler and more straightforward since the framework adapts to the new architecture.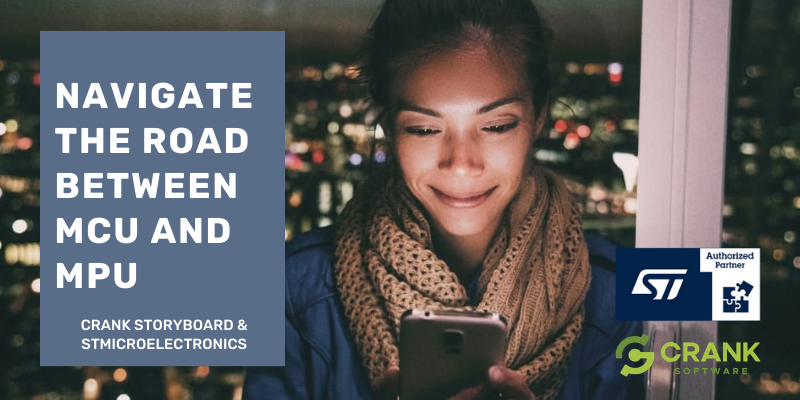 Test Storyboard-built GUIs for ST
Download one of our sample demo images built in Storyboard, and optimized for the ST hardware of your choice, and experience the richness of graphics and high responsiveness possible when developed in Storyboard.
Don't see your ST hardware listed? Contact us and we'll make it happen.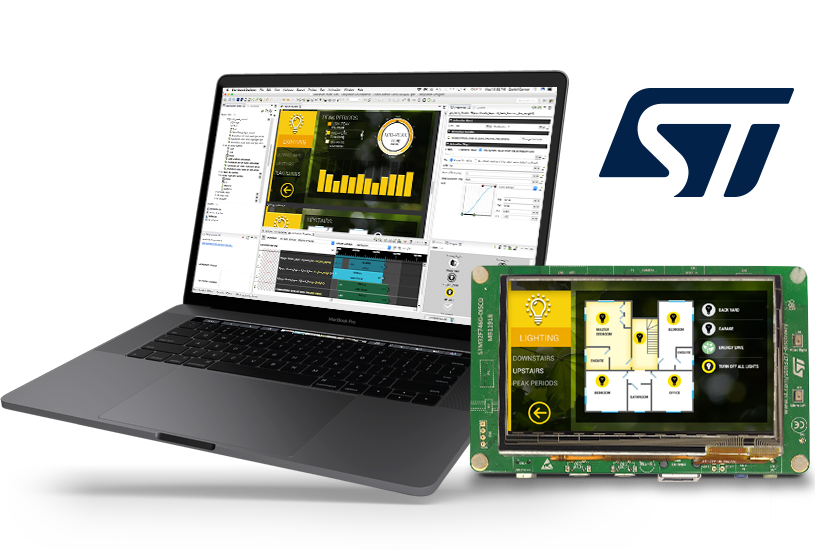 "ST has partnered with recognized partners such as Crank Software, to help our customers in their developments."
MPU Ecosystem — STMicroelectronics
Crank Software and STMicroelectronics partnership
ST spoke to Thomas Fletcher, Crank Software's VP R&D, at Embedded World 2019 about Storyboard's compatibility with the entire STM32 family and our clients' successes so far.
Designing GUIs for ultra-small STM32 devices
Whether it's a GUI for white goods or wearable devices, consumers expect rich user experiences. Watch as Jason Clarke, Crank Software's VP of Sales and Marketing and co-founder demonstrates how Crank Storyboard can help built strong UI experiences on low-frequency devices like the STM32L4R9.
Design, performance, and scalability across MCUs and MPUs
Storyboard makes it easy to create dazzling GUIs that scale across MCUs and MPUs, providing the freedom to produce devices that scale markets and embedded hardware. Watch as Garry Clarkson, Crank Software's Field Application Engineer demonstrates how a Storyboard created GUI can easily scale across embedded platforms.
Featured resources
Leverage real-time insights
With Percepio and Crank to create exceptional UX on STM32 MCUs.
Max performance on STM32
See a live demo of STM32 hardware and Storyboard-created GUIs.
Build a killer embedded UI
Download this guide to creating high-volume, high-margin goods on MCUs with fancy UIs.